New Jersey Utilities Association
"Like one of the team…."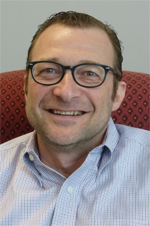 The New Jersey Utilities Association, which celebrated its centennial in 2015, is a 501(c)6 organization founded to provide a forum for the exchange of ideas and a unified voice in the public policy arena for the Garden State's investor-owned utility companies. The Association is supported by dues from member electric, natural gas, water, sewerage, and telecommunications utilities who require rigorous accounting and accountability.
When Andrew Hendry took over as President & CEO several years ago, he came to the Association with what he admits was somewhat limited financial expertise. "I had been the Executive Director of the New Jersey State Senate's Majority Office, where I had had some experience with the utility companies and I was fascinated with their policy issues. But accounting was far from the focus of my work," he says in his NJUA office several blocks from the state Capitol.
He arrived shortly after Superstorm Sandy battered the Jersey Shore, severely straining the state's utilities infrastructure. "It was a challenging time for the industry."
Hendry had neither the time nor the luxury to learn the intricacies of finance and accounting, but fortunately Your Part-Time Controller was already in place. "I needed someone who I could trust and rely on and have complete confidence in, and that's been YPTC's story from Day One."
Over the years, a succession of YPTC associates have served the Association and each of them has been treated like "one of the team," he says. "I consider them, and depend upon them, to the same extent as my staff. When we have a staff dinner they're invited. They're equal in my eyes. They conduct themselves like one of the team, and that's important in a small office like ours."
YPTC staff's technical expertise also impresses Hendry. "We're a unique entity. We're a nonprofit, but we're also a 501(c)6 government affairs advocate for our industry. YPTC's people have handled the accounting details and have taught me a lot. Instead of starting from scratch I can focus on my work of dealing with the people in the Legislature.